It's A Wrap on Bandito Documentary
After a year-long production period of filming all the scenes for the documentary, BANDITO, we finally wrapped our final scene last week. I've been so pre-occupied, I just couldn't post the news on my blog until now!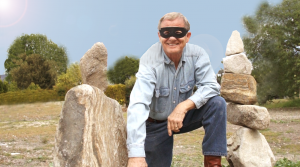 Starring Richard Stewart playing the role of his real-life masked bandit persona known in the community "Bandito."
This is a humorous documentary about Richard turning into Bandito, and renown for stealing trash and weeds from abandoned lots and leaving artful rock sculptures in his wake. Little did these people know that by day, this man is a mild mannered painting contractor and community leader, and by spare time, he is Bandito, stealing trash and creating art parks in empty lots. This is the real stuff. This is an astonishing story of one man's quest to make a difference in the world, starting in his own backyard.
I hope you'll join us on the Bandito movie Facebook Page to be updated on the progress of the film, and when it will premiere! Meantime, here are photos from some of the production scenes: