Obsession from Pinterest to Twitter
I love social media. It keeps me in touch with people and with things going on. I also see things I've never seen, watched great videos I never would have found, and find out about new and interesting gadgets.
With Pinterest, I was addicted to hours of prolonged browsing and "pinning" interesting pictures on my boards. At first, I was building up great Boards, like my "Stylish Home Organization board, my "Decor Picks" board, and my "Creative Interior Designs" board. But it didn't stop there.
I created board after board, from Magnificent Horse pics, to Animal Love pics, to Amazing & Awesome pics, to Just Weird pics, and so on.
What all this meant was spending long hours into the night pinning pictures on my boards. That kind of behavior had to stop eventually, and it did. I switched to the Tweeting phase and began spending time on Twitter.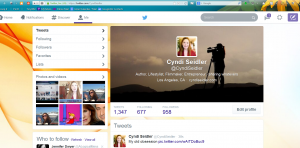 If I didn't have anything to tweet about, I'd search around through Facebook posts to try to find something interesting to tweet. I'd comb through my iPad Flipbook to see what's there that I wanted to share. I'd go outside to take a picture of a blooming Lilly to show it's Spring here. It isn't healthy, I think.
I seem to have a mixture of followers and people I'm following – from professional organizers to film industry people. That makes it quite interesting when I'm posting because my PO people are not expecting me to post things about the industry, and visa-versa. I suppose some of them will un-follow me. But, at least with the PO followers, I'm not posting advice on how to get better organized. Over half of their own followers are fellow PO's, so what's the point in that, right?!
Call this post a confession, if you will. I just had to rant about my latest obsession, you know.